There goes the the top of my head:

What's wrong with contemporary art? By staking out the extremes of artistic practice, it excludes much of the core, and thus excludes our ability to react and connect with our eyes, our hearts, our gut, and our minds. Emily Dickinson defined art's visceral effect this way: "If I feel physically as if the top of my head were taken off, I know that is poetry."

Contemporary art is increasingly one-note rather than symphonic, emphasizing either cerebral or formal appeal. Instead of taking your head off, it'll have you nodding off or shaking your head in dismay.
...writes Carol Strickland in a three-part essay in the Christian Science Monitor. Part 1: The trouble with Western art today, Part 2: Does beauty still belong in art?, and Part 3: We get the art we deserve. She does a great job of laying out the great divide between form- and content-driven art by contrasting two retrospectives up right now in Manhattan: Martin Puryear's and Lawrence Weiner's.
I have to admit it was Hickey et al. writing in Art & Issues that incited my return to art after years of swimming in psychology. There's was art out there that trephinated my skull, but didn't throw out the critical thinking with the conceptual bathwater.

Strickland goes on:
If every age gets the art it deserves, the other trait – speculation – suggests rampant materialism.
For a new collector unwilling to do the heavy lifting of unpacking a conceptual work of art--and with cash burning a hole in his pocket--nothing says art like a painting. And because they ship flat like a knocked-down Ikea bookcase, it's what's for dinner if you're eating art at Art Basel Miami Beach:
Insanely high prices turn art into a commodity with buzz. Fads and hype trump quality and critical judgment. Gallerygoers flock to see name-brand artists whose works garner the highest prices. Often, they leave disappointed and skeptical.
I have to partially disagree with her assessment of digital works, though I do feel a connection to the personal can enhance the viewership of a work. If a work of art resonates with the viewer standing before it, that connection is singular. It stands to reason that that same kind of singular relationship would need to exist on the other end, when the work is realized. A work that epitomizes that for me is
Andrea Bowers' Letters to an Army of Three
. All the connections are one-to-one, between the letter writers, the readers in the video, Andrea, and the viewer. In the video, one doesn't have to see the artist's hand for the individual to come through.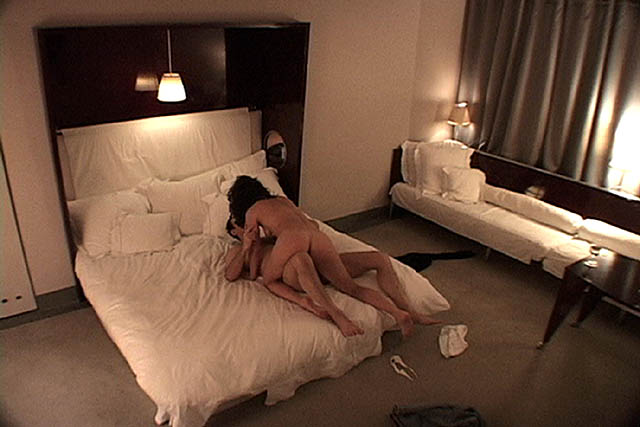 So what do these three images have to do with the text? Knocking around in my head was Christopher Knight's comment on "crummy academic art," from my previous post. Although I knew the comment was pointed at every artist who dedicated themselves to earning a graduate degree, I couldn't help but think of the crummy stuff from the French Academy. Oddly, I could see a connection to some of Knight's selected painters, at least in their formal concerns. After reading Strickland, I thought of digital works that "knocked off the top of my head," and keeping with the naked lady theme, I included a still from a piece by another
Andrea
.