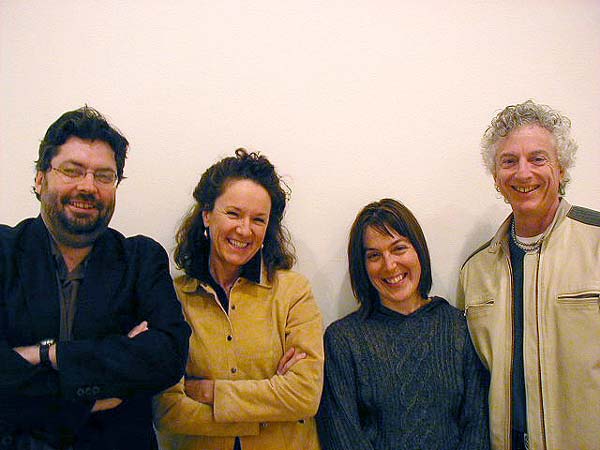 Hammer Pickers: From left: Russsell Ferguson, Ann Philbin, Claudine Ise, and James Elaine.
We got to meet with
Hammer
Projects Curator James Elaine yesterday. A few thoughts to post. Jamie (as he introduced himself) came from the drawing center in New York nine years ago. He positioned himself as an artist-curator, a la
Matthew Higgs
. Next year he'll be taking an extended trip in China, looking at art and artists, like a baseball recruiter for the Hammer. The
Wrong Gallery
's
Ali Subotnick
will be taking over as HP curator.
I asked about some of the conflicts that curators face, with art collectors who support the museum and also use the Hammer's penchant for finding the next hot young artist as a way to expand their collection. He did say that the recent growth in the art market has helped more younger artists make a living from their art (a good thing), though with the growth of art fairs and biennials, he hasn't seen a corresponding growth in the amount of great art being produced. (Something I've remarked about in past posts).
I've also commented before that art fairs promote art fair art: that being work that ships well, has immediate impact, and looks good on a temporary wall erected in some convention center. It seems that the Hammer is fairly entrenched in that sub-class of the art world: one of the criteria for the Elaine-curated sculpture survey, "Thing," was that there would be no installation art.
Which brings me to my final comment.
The traditional (non-CalArts) art education, a group of freshmen are scattered about an object and are schooled in pictorial representation. By their fourth year, art students are expected to produce a body of work that is unique in vision and expression. What is difficult (for me) to understand is how one leads gracefully to the other. In the end, we are left with art folk who's only entrance into a work of art is through some aesthetic entry point. Work that reads like politics (or worse, work that you have to read) either gets derided or left out of the mix.
Which brings me back to the Hammer.
Having Jamie talk about (and being reminded of) past Hammer shows made me realize that there is a Hammer aesthetic. The work shown can be wacky or serious in its subject matter, messy or clean in its execution. In the end, if I walked into the Hammer
five years ago
, I wouldn't know (with a few exceptions) that the United States is at war in two countries, tortured people, and suspended due process. Which makes me think that their survey shows (Thing, International Paper, Eden's Edge, Snapshot) have been avoiding a big chunk of the art world.