I'm gallery sitting here at Peres Projects, and just read an Artforum post about a security guard at the Carnegie International who destroyed a Vija Celmins painting:

The piece—from Vija Celmins's "Night Sky" series—was on display as part of the 2008 Carnegie International exhibition, according to a police affidavit. It was damaged beyond repair on May 16; a "large vertical gouge" runs down its middle. A surveillance tape caught Timur Serebrykov in the act of defacing the work, the affidavit said. "I didn't like the painting," Serebrykov told police when they arrested him at the museum on May 20.
For some reason, this made me think of
Christopher Knight's critique of BCAM at LACMA's use of gun-toting guards
. Perhaps the museum is concerned about the potential for a
toxic formaldehyde spill
made by some dead-sheep loving animal rights activist. Either way, the worry about potential problems seems to come from the same logic that makes some countries engage in preemptive wars, or why some countries stockpile hundreds or thousands (instead of say, dozens) of atomic bombs: if a guard is good, a guard with a gun is better.
When entering LACMA, there are no metal detectors, and only large items like backpacks are searched or have to be left at the coat check. Someone could easily stick a hammer up their sleeve, and give Hirst's sheep a fatal whack. To stop such an event, (with or without a gun) requires the guards to be vigilant. A guard with a gun could shoot the vandal from across the room, rather than have to run up and wrestle the perpetrator to the floor. No need to break into a sweat, and only moderate risk of nicking some baby in a stroller.
But what about the guard who defaces a work of art? Are the guards with guns willing to take out one of their own for the sake of the art? Would a Celmins with a bullet hole be worth more than the Celmins with a tear?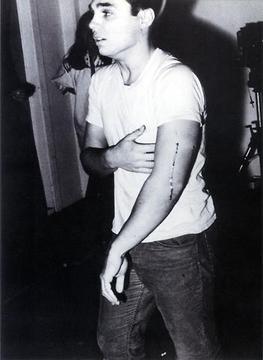 What these protective measures fail to take into account is the headline-making that gunfire in a museum would almost guarantee. Like a jump from the Golden Gate Bridge,
suicide by museum guard
could have the potential to attract as much violence as it's designed to prevent.