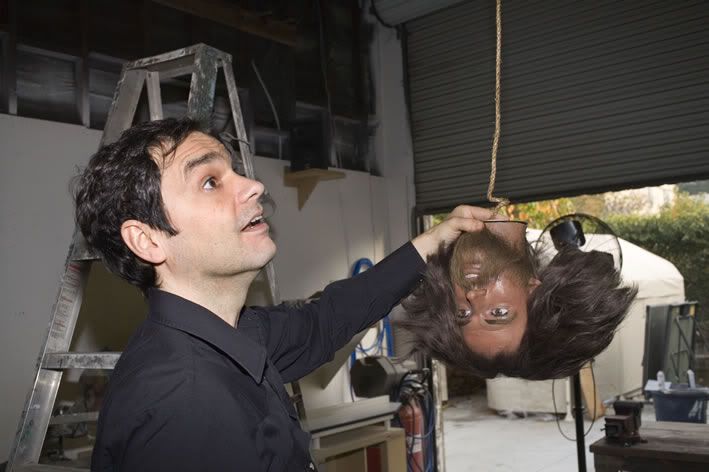 Sam Durant (my mentor) Making Art

Andrea Bowers shouted at the class, "You're supposed to kill your fathers!"
This bit of Freudian metaphor turned into the
lingua
franca
of our day was not about drives and taboos, but the historical precedent of responding to, and then subverting the artistic movements of the moment. The Futurists rebelled against "the spineless worshiping of old canvases," just as Pop reacted to the Abstract Expressionism of their day.
But for Andrea's floundering young artists--making work in the post-post-modern world--culling, quoting, and appropriation can seem like legitimate strategies just as much as reacting against. And perhaps in the no-holds-barred capitalism of the art world, referencing accomplished artists can feel like a safer bet; after all, one has to eat!
For myself, much of what Andrea has to say got stuck between the folds in my brain, like strings of meat between my teeth after chewing on a plate of ribs. But if recent biennials and art fairs are any indication, how can one react against the "anything goes" artistic production of our day? I guess one place to start is with one's father, and in my case that may be my art-school mentor, Sam Durant.
During my time at
CalArts
, I had some ideas for subject-based work that might result in a proposal for a monument. These ideas were set aside, seeming a bit too
derivative
of Sam's work around the pilgrim museum,
Altamont
, and the Indian/White Memorials. More recently I returned to the idea of the monument, and got to thinking of alternatives.
In a general sense,
monuments
are a bit of history writing, something thrown up by the victors or survivors. They often grab significant and prime bits of public real estate, and in the end foist their point of view on either the site's visitor or (more likely) an unsuspecting passer by. There is often one
unambiguous
point of view presented, and the good guys and bad guys are clearly indicated--like in a Hollywood "B" movie. Didactic information is chiseled, cast, or etched into stone or metal--either shutting out or reducing conflicting opinions or points of view--and eliminating conversation completely. In the rare
instances
where the public is allowed to comment and share their opinion, it is usually
relegated
to an ephemeral media like a visitors book, while the official version is granted both
hierarchy
and longevity--becoming a part of the
architecture
of the
monument
itself.
On the other hand, documentation is a
fungible
resource. it can be
amended
, rebutted, and rewritten (or created new, from whole cloth). Though they can stand on their own, documents often support their position through a foundation of references that can be checked and called into question. A document can take many forms, many of which are easily reproduced and distributed. Though different types of documents have an inherent
hierarchy
(a peer-reviewed journal will carry more weight than a supermarket tabloid) ultimately a document's validity and
relevance
will hold it up to the test of time. Innovations in document reproduction--from Gutenberg to Xerox to the Internet--have increasingly flattened
hierarchies
, allowing alternative opinions (and voices of the oppressed) to have their say.
Because modern day documents can be turned into
various
forms of zeros and ones, they can more easily bypass censors and
hegemonic
oppressors of free
speech
. In a form such as this web log, they can be easily found by those searching for specific terms, and even commented upon. In the shift from Monument to Document, the didactic becomes dialog as information begins to flow both ways. The single point of view is shattered into a thousand points of light.
With that in mind, I plan to post over several weeks what was
originally
conceived as the
Love, Brother Monument Proposal
: The Love, Brother Document.