Across the courtyard at the Getty Center, Cast in Bronze offers roughly the same 17th to 19th century time frame (rendered in metal) as Capturing Nature's Beauty reveals on paper. But instead of stodgily promoting the haute bourgeoisie and French monarchy, the three centuries of French landscapes offer a more humane view of the same era. Early works in the show offer the landscape as a backdrop for human activities, from the siege of a castle to an autumn harvest. Spectacular gems of the Getty's drawing collection are on display, from a study of dappled sunlight by Poussin, to a watercolor of storm-tossed boat by Géricault (above). They way the boat's sails and wave break the horizon on either side of the distant ship point to
Géricault's compositional solution to the background on his much larger Raft of the Medusa.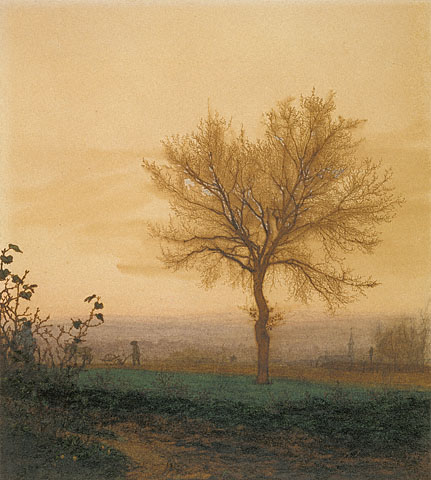 Ironically, the vast majority of visitors to the Getty Center don't enter the museum, preferring to tour Robert Irwin's landscape outside. If there was ever a reason to log off and push away from your monitor's glowig jpegs, it's Léon Bonvin's

Landscape with Bare Tree and Plowman

(pictured above). A highlight of the show, the jewel-like, nearly photographic rendering of a bare tree glistening with the last melting patches of a spring rime--when seen in person--is like eating an unpasteurized Camembert from Normandy, rather than the Velveeta of pixels displayed here.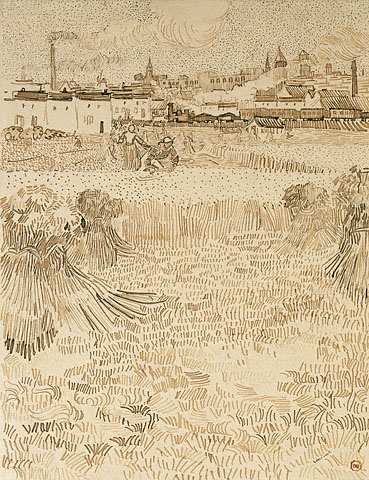 The last works in the show foreshadow the concerns of our modern present. Chanpioning the optical over the experiential, Albert Dubois-Pillet and Georges Seurat present us with flattened, manually pixelated landscapes. In the end, Van Gogh brings us back to the harvest, but now the smokestacks and locomotives of Arles belch exhaust in the distance.
Capturing Nature's Beauty: Three Centuries of French Landscapes
is on view at
the Getty Center
through November 1, 2009.